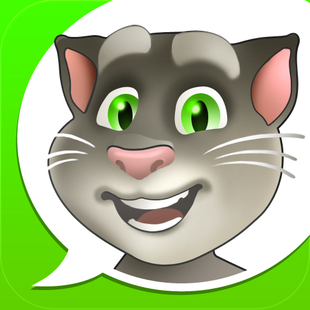 Send awesome video messages
Edit
Send awesome video messages to your friends & family as one of the Talking Friends characters. You can choose to be Talking Tom, Ben, Angela or Gina. Record a short video and then send it as a text message (SMS), Facebook message, KakaoTalk message etc. You can also share your video by posting it on Facebook, Twitter, RenRen… This app is perfect for sending messages you would otherwise be too shy to say in person, like apologize to someone, profess love or sing a song… You can even create your own funny video story.
How to Use
Edit
✔ Select the character you want to send the message with. ✔ Shop & equip your characters up with accessories. ✔ Select a background or use your own photo. ✔ Record a message by pressing the big red camera button. ✔ Send or Share the video with your friends, family and loved ones. ✔ All accessories and some characters are only available if you purchase them with gold coins.
Ad blocker interference detected!
Wikia is a free-to-use site that makes money from advertising. We have a modified experience for viewers using ad blockers

Wikia is not accessible if you've made further modifications. Remove the custom ad blocker rule(s) and the page will load as expected.